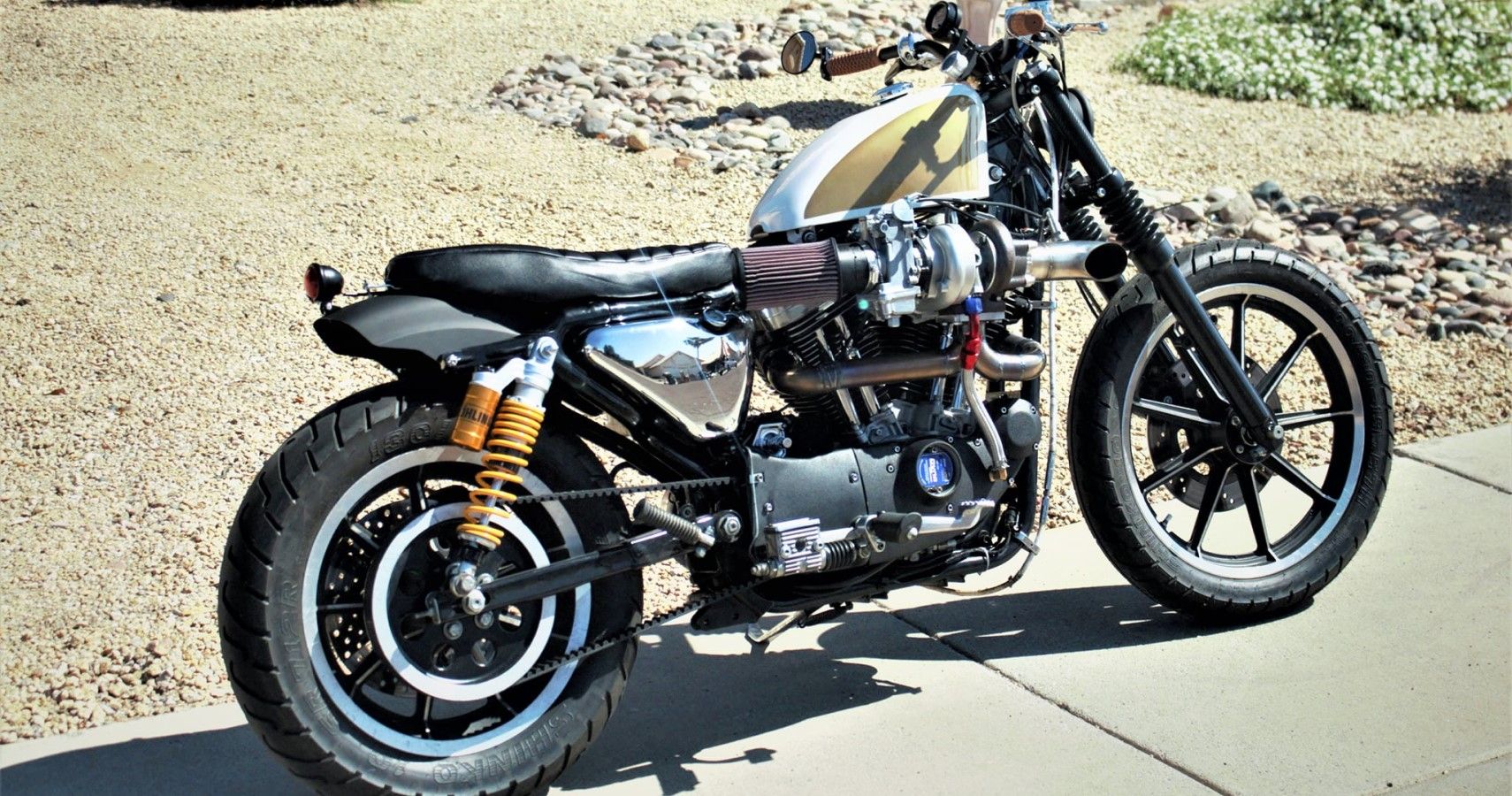 Check Out This 1200 Turbocharged Harley Sportster 1200
Turbocharging is a magical setup that helps extract more performance from your vehicle's engine, and it's very common among cars. But the bikes stick to naturally aspirated setups, with the only current exception being the mighty Kawasaki Ninja H2 and its supercharged Bimota derivative. There have been several motorcycles with turbos in the past, as well as a scooter from Peugeot! But there are no American specimens to fill the list of turbos.
And maybe that's why YouTube channel DoctorMotorcycle took on the task of supercharging an old-school American – the 1994 Harley-Davidson Sportster 1200 to be exact. This channel has featured some interesting builds including turbocharged ones so the video is a treat to watch with very peaceful viewing. The custom work and DIY bits are mesmerizing to look at, and the builder doesn't leave out the aesthetic aspect as the end product looks radiant with the custom paint job and slimmed down design.
A turbocharged motorcycle is on our to-do to-do list, after seeing this stylishly "boosted" Harley-Davidson Sportster.
Donor's Motorcycle: 1994 Harley-Davidson Sportster 1200
The 1994 Harley Sportster 1200 was a rather simple motorcycle with only 50 hp and 55 lb-ft of torque. It was and still is a motorcycle that will do best on city roads with its attention-grabbing exhaust note. And if you wanted to get somewhere fast, better look elsewhere. So much for the "Sportster" in the name.
To give you an idea of ​​how Harley's performance quotient has changed over the years, the current-generation Sporster S produces an impressive 121 hp and 94 lb-ft of torque. But yeah, if you want to rekindle the old-school vibe, then speed and power don't matter. But this particular HD Sportster 1200 is getting a makeover.
Related: Turbocharged Motorcycles That Aren't As Scary As They Look
Restoration and custom work in time lapse ASMR video
This custom work was undertaken by the YouTube channel – DoctorMotorcycle. And they made sick project bikes like a Suzuki GS400-based Scrambler, a Yamaha XS 650-based cafe racer, and a twin-turbocharged Moto Guzzi V50 3 cafe racer.
And that's also why this turbocharged Harley build video is so peaceful and seems too easy. A lot of work went into the build, but their experience with previous turbocharged bikes makes for a pretty smooth approach.
Although this is a custom build, it is also a restoration, as the donor bike needed a breath of fresh air (pun intended!). The video begins with some cooing ASMR stuff with cleaning and scrubbing.
The first section is about basic TLC and replacing fork oil and adding a simpler, more information-focused dashboard. Next comes the most interesting part of the turbo integration. A lot of tinkering is done here, which almost gave us the confidence to go right out and put a turbo on a project bike.
Related: Watch a Modified Yamaha Banshee Pass Emelia Hartford's C8 Twin-Turbo Corvette
Appearance matters for this Harley-Davidson Turbo
Besides supercharging the V-twin engine, DoctorMotorcycle also puts a lot of effort into making this rad project look the part. The seat is the first to detach and be taken apart, resculpted and stitched for a more compact design and has a snotty design. DoctorMotorcycle shows off her sewing skills here.
Then the rear fender is trimmed for a cleaner look that goes with the lightened seat. The tank is then removed and given a cool white gold custom paint job that pairs with the Ohlins remote tank setup in the rear. The complete construction is a cool representation of "cruiser" to "sporty" and looks radiant for sure.
Related: Ranking the fastest American motorcycles ever made
We want a turbocharged motorcycle now
DoctorMotorcycle makes this build too easy. While it's true that it takes experience to put a turbo on a motorcycle, it's impressive to see how far we've come in terms of technology accessibility. The right tips can help you create your turbocharged monster with the right garage setup and the right tools.
Sources: Youtube.com/Doctormotorcycle, Facebook.com/Doctormotorcycle, Nc700-forum.com, Rideapart.com
These American Manufacturers Built Awesome Motorcycles… But Nobody Knows About Them
Read more
About the Author