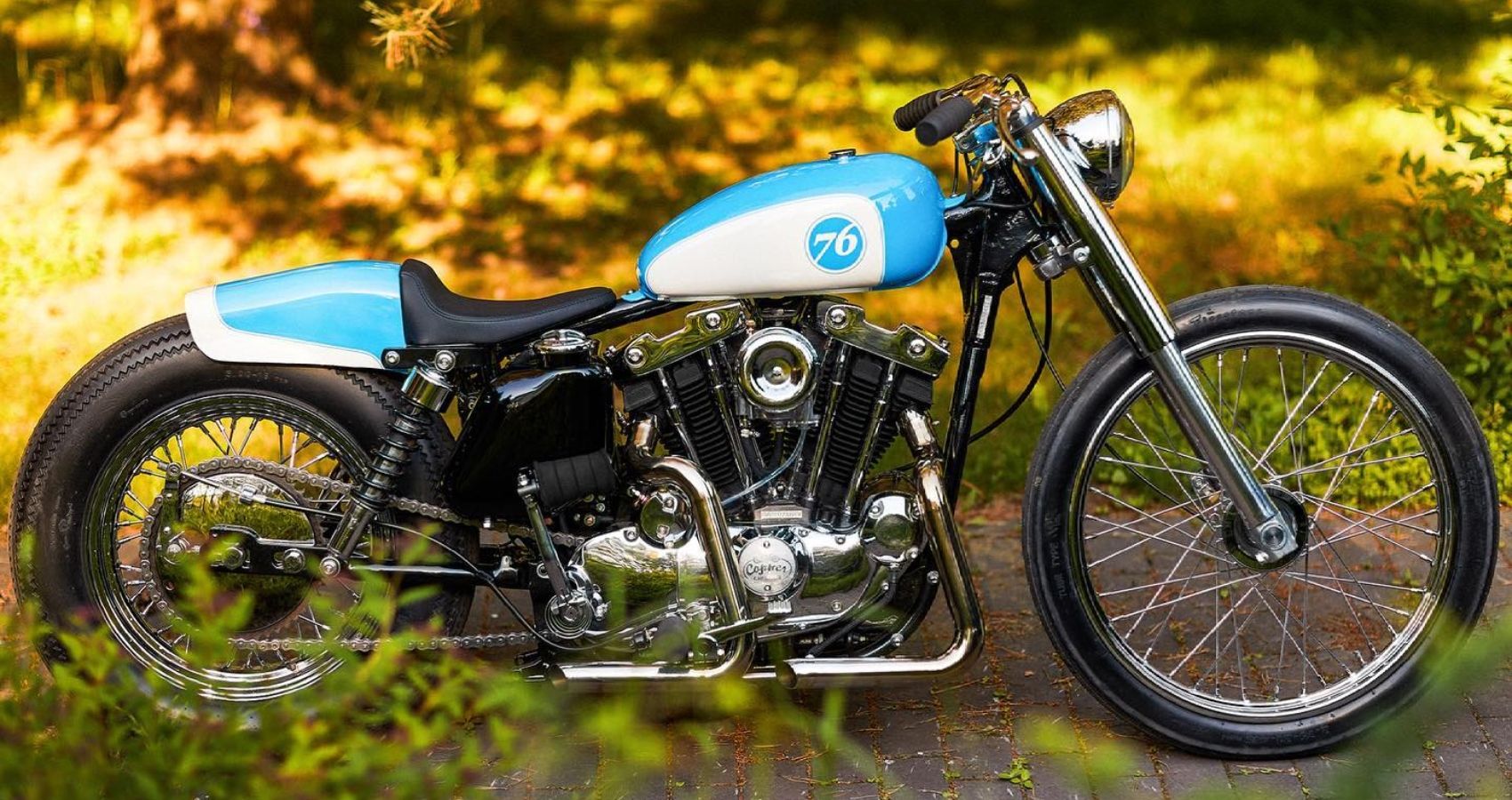 Check Out This 1976 Harley-Davidson Sportster Transformed Into A Retro Chic Bobber
There's something about chic, old-fashioned handcrafted bobbers – it's hard to grab attention even after adorning minimalism and having no modern attributes to brag about. The Moscow company Copper Chopper, operated by the duo Alexey and Igor, makes such beautiful motorcycles by restoring them using their artistic skills. And you can feel their creative excellence in this spunky looking bobber based on a Harley-Davidson Sportsters. The two co-owners of Copper Chopper put their hearts into this project, as it was the first build they had commissioned after taking their store and turning it into a full-time business. This bobber is one of many projects that prove Harley-Davidson motorcycles are great bases for customization.
The gorgeous bobber here is a 1976 Harley-Davidson Sportster unearthed by Alexey in dilapidated condition for the project. When Alexey bought this Sportster it was rusty, abandoned, damaged and leaking too. So just at a glance, it's easy to tell that a lot of work has gone into making this bike an attention magnet. Besides making it look like a vintage beauty, Alexey and Igor gave this bike a host of mechanical upgrades. And before you start thinking about buying this beautiful work of art on two wheels, we're sorry to disappoint you, because it has already found a new home.
Related: 5 Cool Factory Bobbers We'd Love To Throw A Leg (5 Custom Bobbers We'd Rather Be Riding)
A subtle touch of minimalism for this retro Harley
Copper Chopper's Alexey and Igor made sure the Harley-Davidson Sportster they bought for the project didn't lose any old-school charm in the transformation. The result includes a classic chrome rounded headlight in the front. It also has an offset taillight attached above the side license plate bracket on the left side.
Even the cockpit of this bobber resorts to minimalism, as it gets a pair of narrow, straight-mounted stainless steel handlebars. The handlebars come with new grips, custom brake and clutch levers. The bike also has a stainless steel chrome rear view mirror attached to its right side. However, Alexey says that this rearview mirror is inconvenient in its use, as it only shows the silhouettes of people or vehicles behind this motorcycle. The bike also gets a neatly hidden internal throttle and kill switch to go with the minimalism theme.
This Restomod Harley is built from custom parts
While Alexey and Igor opted for a minimalist look for the front and rear profiles, they put their hearts into the details for the side profile. You can see this attention to detail on a grand scale in the bespoke fuel tank, unique seat and wide cowl for the rear section behind the seat. The fuel tank and rear hood are in tune with their color scheme and two-tone blue and white curves.
However, if you look closely, you will feel that the work done by the folks at Copper Chopper is not overdone but seems subtle. It's a custom bike, but it retains the original essence of the Harley-Davidson choppers of yesteryear. According to Alexey, he and Igor wanted this motorcycle to look traditional and stylish. Because of this, both have customized the fuel tank, rear cowl and exhaust design in the right proportions, similar to Harleys of the bygone era.
Engine gets some much needed TLC
When Alexey and Igor got this motorcycle, there was an oil leak, which indicates that the heart of this motorcycle needed major work. The two began to refurbish this engine by completely rebuilding the iron head mill upside down, followed by an intensive session of painting and polishing. This bike's engine received upgraded parts such as an S&S cycle carburetor, electronic ignition and choke from Lowbrow Customs.
Other upgraded engine components include new polished covers, a Copper Chopper ignition cover and a pair of custom exhaust manifolds. All finished in shiny chrome, in sync with the wire wheels. The motorcycle has also received a new kickstarter pedal and shifter knot so that it offers no problems for the rider when starting and riding.
Related: Here's Why Harley-Davidson Street Bob Is The Ultimate Bobber Motorcycle
Other mechanical changes to this very special Sportster
The engine wasn't the only mechanical element to receive extensive treatment during the refurbishment of this Harley-Davidson Sportster to a bobber. This motorcycle is fitted with front telescopic forks and new-age rear shocks from the 2013 Harley-Davidson Sportster owned by Alexey.
The bike also received new 21-inch front and 16-inch rear wheels fitted with drum brakes. To accommodate the large 21-inch front wheel, Alexey and Igor shaved off the brake mounts positioned on the fork sliders. The drum brake hub for the front wheel came from Lowbrow Customs. The bike also gets vintage-style Firestone tires, new foot pegs and a host of new nuts and bolts.