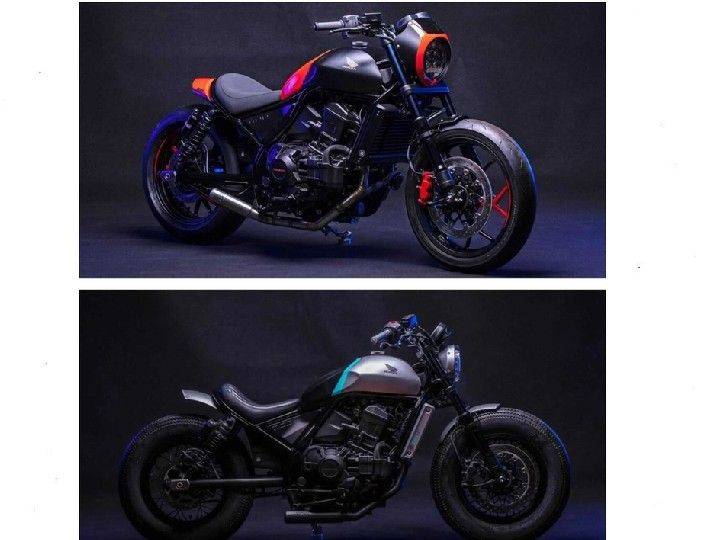 FCR Original transforms the Rebel 1100 into a Bobber and a Sports Cruiser
Wheels And Waves – France's first custom car show has been canceled this year due to looming fears of the Covid-19 pandemic. But that didn't deter the French customs house FCR Original from showing the world its two custom Honda Rebel 1100s – the CMX Bobber and the CMX Sport.
As the name suggests, the CMX Bobber is designed after the barebone cruisers of yesteryear. Considering that Honda already had the minimalist theme going with this Rebel, it might not have been such a daunting task for FCR to pull this off. However, this is not just a troubleshooting job.
FCR Original lowered the front by 25mm while keeping the rear suspension and swingarm in the original shape. Additionally, the stock handlebar is replaced with a buckhorn handlebar which adds to its bobber credits. FCR even switched to black metal-spoke rims and thick Bridgestone rubber for an authentic bobber look.
The Honda Rebel 1100 is loaded up to the tee with electronics. Ride-by-wire, ride modes, traction control, heck, he even gets freewheel control! While the CMX Bobber might not do these goodies justice, the CMX Sport certainly intends to do it.
Keeping the grim red and black paint scheme aside, the CMX Sport is a steal. Ohlins twin shocks take over the suspension tasks. Then there is the 17 inch rear wheel from Honda CB500F which replaces the original 16 inch unit shod with a Dunlop D212 tire. FCR opted for a slightly wider handlebars for better control.
FCR Original has not tampered with the engine on both motorcycles and continues to run the Honda Africa Twin parallel twin engine which produces 87 hp and 98 Nm. The customs house, however, replaced the original exhaust with a steel unit. chunky stainless.
One of the key aspects of these constructions are the 3D printed fuel tanks. FCR used a blend of polyester and carbon fiber to build the sculpted tanks of these machines. The customs house kept the original features of the motorcycle such as the LED headlight and the instrument console.
FCR Original has made some interesting builds and even offers accessories for Triumph, BMW, Harley-Davidson and Royal Enfield motorcycles. However, there is no word on the price of these custom Honda cruisers, and we believe the CMX Bobber and CMX Sport are unique builds.