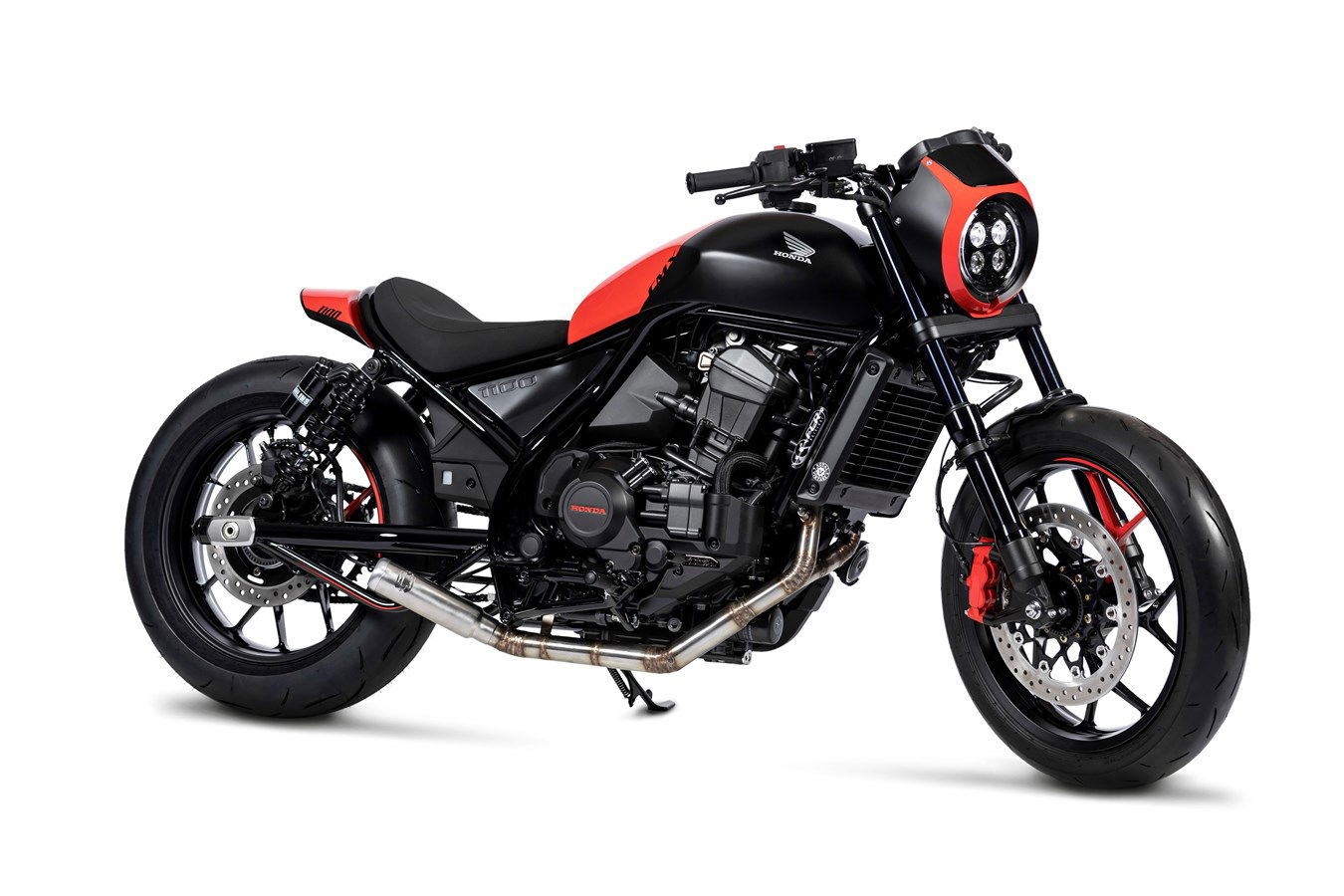 Honda CMX 1100 Rebel breeds custom Bobber and Sport motorcycles …
FRENCH custom motorcycle builder FCR worked hard during the lockdown to create two CMX 1100 Rebel custom bikes that will be unveiled at the Wheels and Waves festival in Biarritz.
Both bikes are called the Bobber – a stripped down, minimalist bike in silver and black, and the Racer – the more dynamic machine with lots of 3D printed parts. The bikes were due to appear at the famous Wheels and Waves show in Biarritz later this summer, unfortunately COVID-19 put a damper on that and forced the organizers to cancel.
Honda CMX Sport
FCR wanted to highlight the playful side of the new Rebel, but at the same time introduce a more muscular and aggressive posture. After making sketches of the finished bike, the team got to work. A swingarm modification allowed for the fitting of a pair of black Öhlins rear shocks, as well as a 17-inch CB500F rear wheel and Dunlop D212 190/55-ZR17 tire. The front fender is anti-scratch and lowered by 25 mm; oversized handlebars add leverage while the speedometer has been moved to the upper yoke.
The body of the Racer is the result of a full 3D scan and consists of a custom polyester-carbon fuel tank (with aluminum filling) and a rear seat with LED lighting and an Alcantara seat. Handcrafted footrests add a racing feel while red / black paint and detailing pay a subtle homage to Honda liveries of yesteryear. The engine is original but breathes through an FCR Original stainless steel exhaust.
Honda CMX Bobber
The CMX Bobber has a much more classic custom feel, with wide tires and a chunky stance for the bike. The swingarm and suspension are stock but lowered by 25mm at the front, while the bespoke black spoke wheels wear large Bridgestone tires.
Building on the bobber vibe, we find an aluminum handlebar, a leather seat with perforated leather ribs, a single aluminum front fender (with Mirrachrome finish) and a painted headlight surround. The Mini-Bates FCR Original LED indicators store neatly and, like the CMX Sport, a 3D scan produced the custom polyester-carbon fuel tank – with Mirrachrome / satin blue finish – and aluminum fill. A ceramic coated FCR Original exhaust is the final touch, highlighting the mechanical beauty of the bike.
For our full review of the new Honda CMX 1100, visit: www.visordown.com