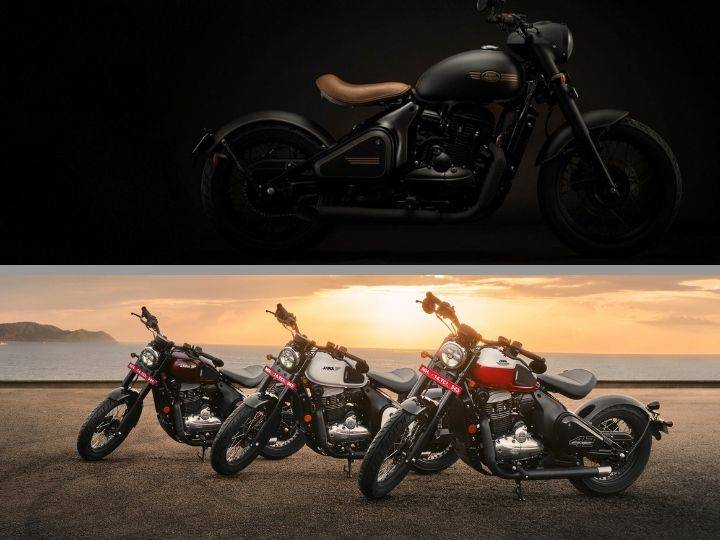 Jawa 42 Bobber Vs Perak: Key Differences Explained
Jawa recently launched the 42 Bobber and, interestingly, it will be sold alongside the Perak, the bikemaker's first bobber-style motorcycle. Although the 42 Bobber shares its underpinnings with the Perak, there are key differences that set the two bikes apart. Here's a quick overview of these key differentiators to help you choose the perfect bobber for you.
Design
From a distance, it becomes a bit difficult to tell the two bikes apart and that's mainly because they have the same silhouette. The new Jawa 42 Bobber is inspired by its sibling after all.
However, while the retro theme of the Perak may appeal most to the nostalgic buyer, the Bobber 42 offers a fresher, sportier and more modern design.
Keeping with its modern theme, the 42 Boober gets LED lighting all around, the headlight without the Perak's pod as well, while the Perak gets a basic halogen headlight to match its retro theme. Another design difference is the distinctly muscular fuel tank of the 42 Bobber. It has prominent knee recesses with sporty rubber pads, while the Perak gets a crease-free, retro-style peanut reservoir.
To amp up its sportier look, Jawa redesigned the 42 Bobber's rear fender and taillight assembly. The Perak gets a tail light under the seat, but the 42 Bobber has a tail mounted unit. Even the exhaust on both bikes is finished differently with the 42 seen wearing a metal sleeve around the end box.
Ergonomics
This is where the two bikes are really different from each other. Compared to the Perak, the 42 Bobber has forward footpegs and raised handlebars for a more upright riding position. While both bobbers have a single seat, the 42 Bobber unit is re-damped and can be adjusted forward or back approximately 25mm.
Features
This retro versus modern theme is also visible with the choice of instrumentation on both bikes. The 42 Bobber features a modern digital dash and a neat little cube of switches on the handlebars to toggle between options. On the Perak you get an old-school analog cluster which may suit its retro theme but feels rather basic in front of the more modern hardware of the 42 Bobber.
While the engine and chainstays of both bikes remain unchanged, the 42 Bobber's suspension has been retuned to match the new sporty avatar of the bike. That said, the biggest difference between the two bobbers is the price. While the Perak costs Rs 2,09,187, the new 42 Bobber can be purchased for a more accessible price of Rs 2,06,500 (ex-showroom). Therefore, this begs the question: should you pay more for less simply out of nostalgia?