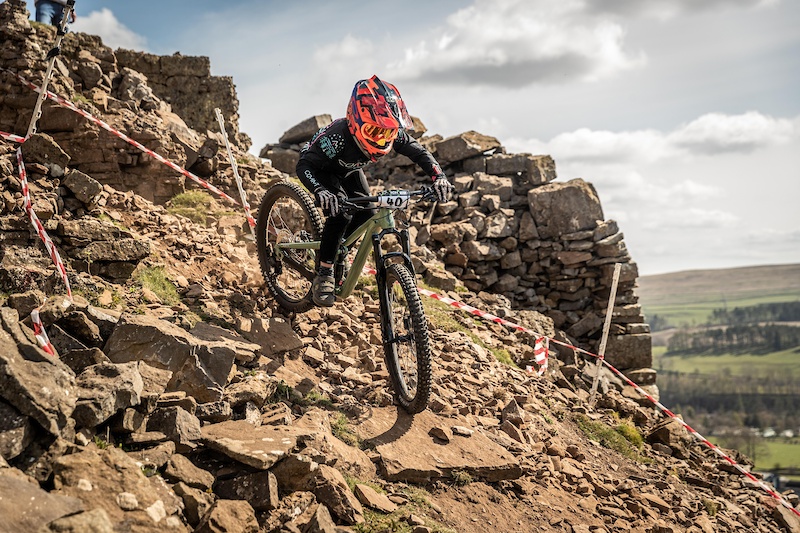 Race Report: Old School Grass Racing North Downhill Eastgate
Well, it was a hell of a weekend. We can finally resume the race, and it was clear that there was a thirst to get between the bands. Northern Downhill, supported by Start Fitness and Powerbikes UK, organized 2 races this weekend. Saturday saw their very first electric-only mountain bike race and Sunday was a return to the specialty of Northern Downhill, a TT race.
Saturday was dedicated to e-mountain bikes. Love them or hate them, they are here to stay and are getting more and more popular. Let's face it, who doesn't like going up a hill with help? And then do it over and over and do more descents. That was the order of the day on Saturday, with a slightly different route for e-MTBs, Carl and his crew had set up uphill lines and rugged rocky sections that would have undermined the speed and flow of any bike without assistance.
Eastgate itself is a small village in the UNESCO Weardale area of ​​the northeast, the course itself, mostly farmer's fields with an elevation of approximately 600 feet and a course of around 0.92 miles (estimated using Strava). The course itself zigzagged over rough and bumpy terrain, over broken stone walls, wooden jumps, boulders and boulders. Add a loose gravel chute and off-camber sections, this course had a bit of everything.
The best overall time of the day was a revelation for some of the faster guys who came out to race. But after an almost 2 year break in the race, Helen Gaskell absolutely blew the field away (excuse the pun). The format of a TT race is one practice in the morning, then 2 timed runs and the fastest time is the rider's official time. Helen's (Open F) time was 2: 37.67 and nearly 6 seconds faster than the fastest man of the day Gary Ewing (40-49) in 2: 43.55 and the 3rd fastest time of the day went to Charlie Austic (17-29) in 2: 44.27. It was great to see Carl alongside PowerbikesUK embrace the electric mountain bike storm. Hopefully in the future, Northern Downhill will continue to attract more electric mountain bikes to enter the race.
Sunday saw Northern Downhill's first full event in 2021. Carl and his team alongside Barry Kemp from Cold Brew managed a few events later in 2020, and it seems like an eternity since the North East hasn't seen any. race in these strange times. A mass of 240 runners showed up on race day, more than double the number of runners ever seen at Eastgate. Some riders even ran both days, as there was also an e-MTB category on Sunday, as well as some riders doing both disciplines (Sarah Vayro!) The thirst for racing was very clear this weekend. Riders with new bikes and kits were desperate to get them out.
One thing is certain, the young players were in force, we can not help but think that the future of this sport is solid. It would be nice to talk about all of them, but below you'll see some photos of a few selected young boys moving up the ranks. Some of the young women to mention are Hollie Vayro, Macie McCarthy, Florry Wharton, Katie Melville, Kacey Eyeington and Megan Plews.
This course obviously had no e-MTB-specific uphill section, but riders were treated to some boulders, wall crossings, huge wooden shippers and the infamous drop in the final section. Most of the runners weren't big fans of the push up the hill, but everyone I spoke to loved the course, which was a bit reminiscent of downhill racing in the 90s.
The fastest riders of the day were the Philogene brothers and the only 2 riders to go under the 2 minute mark. Chris (19-29) was the fastest overall with 1: 57.07 and Jonathan (19-29) just 0.29 seconds shorter. Dude, it was a close race, was it due to the bikes being used? Chris using a full DH rig versus Jonathan's enduro rig? The third best of the day went to Ruairidh McCritchie (19-29) in a superb 2: 00.68.
The fastest woman on the hill was the impressive Toni Fryer (21-30) in 2: 22.77. In her last 10 races, she was either 1st or 2nd so Toni is no stranger to the podium. The second fastest woman was Hollie Faith Vayro (11-20) in 2: 27.66 and she was certainly on the cutting edge. Hollie too, is no stranger to the podium, and the 3rd fastest woman of the day went to Sophie Cade (21-30) in 2: 30.81. Sophie is still relatively new to the racing scene, having only run 7 times with 5 podiums, including three 1st places!
It's the end of this weekend's shenanigans where nearly 300 runners were entertained by the Northern Downhill. Helen Gaskell came, saw and conquered e-MTB racing and eventually racing returned to the North East after some crazy times. For more information on participating in other Northern Downhill races, visit their website or Facebook. For a full rundown of the results, including each category, head to Roots and Rain.
Here is my completely incompetent course on the course. Please excuse the language
Words, Photos & Media – @jwdtphotography – Jerry Tatton