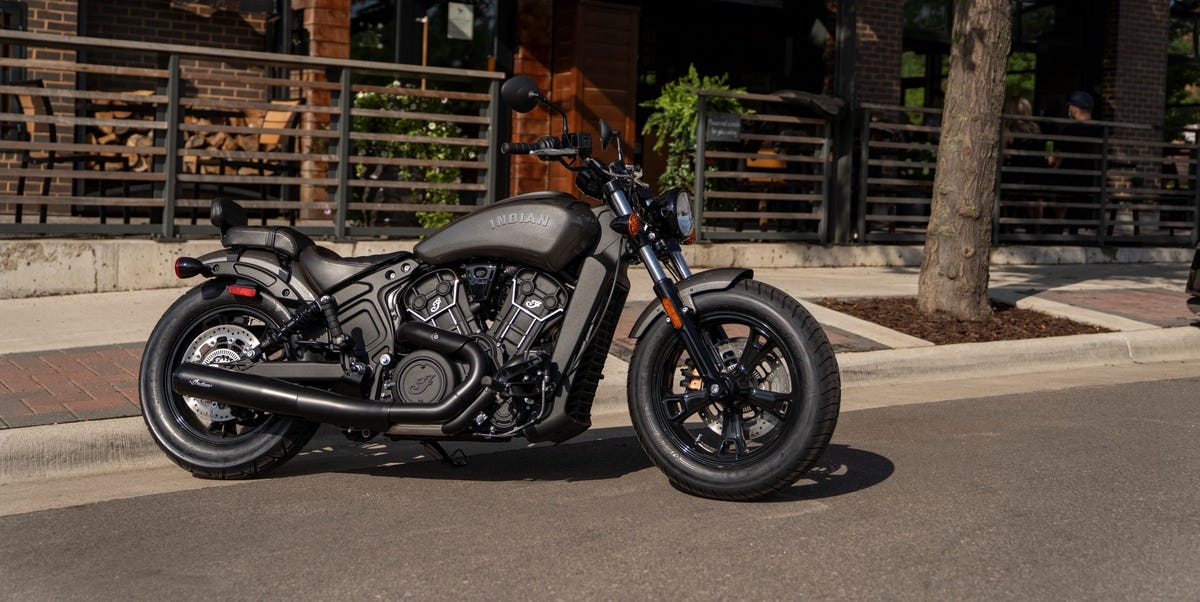 The Indian Scout Bobber Sixty is a killer starter bike for riders of all ages
Search for "millennials and motorcycles" on Google and you find story after story claiming that Gen X successors are killing the industry. Further research indicates the opposite. A 2019 Progressive International Motorcycle Show survey of 2,008 attendees with no previous experience on a bike found that 81% planned to get their motorcycle approval, and 64% of those people were under 35. While those interviewed were participants in the organization's Discover the Ride initiative – giving unlicensed newbies the ability to ride an indoor track at 11 mph – the fact remains: all it takes is a quick experience on a bicycle to interest people. Even millennials.
As a 28 year old man who has just spent the last few months riding my first kilometers on a nasty Indian machine, I am not only an interested millennial but a completely addicted demon who cannot stay off two wheels. high-octane fun stored in the garage. And neither did my 60-year-old father. We both had the unique opportunity to learn to ride side by side on the indian scout bobber sixty. The entry-level model debuted in 2020 as a more accessible version of the Scout Bobber that doesn't skimp on the stripped-down retro look, and it remains the most recent offering in the brand's Scout cruiser lineup. Polaris for the 2021 model year.
"The Scout Bobber Sixty is accessible to riders of all skill levels for a variety of reasons," said Indian Motorcycle Vice President Reid Wilson. Automatic week. "The 1000cc engine is powerful but not overpowering, while the bike's light weight, agile handling and low center of gravity create a very fun machine for everyone to ride." A 61 cubic inch (1,000 cc) V-twin develops 78 horsepower and 65 lb-ft of torque at 5,800 rpm. Compared to the Scout Bobber, the Sixty has eight cubic inches (133 cc) less cylinder volume, five speeds instead of six, and costs $ 2,000 less at $ 8,999. That's a virtually unbeatable price for any new cruiser with that big engine.
Before getting in the saddle, we were advised to start with the Motorcycle Safety Foundation Basic Riding Course, offered locally by ABATE (A Brotherhood Aimed Towards Education) of Iowa, my home state. Between eight hours of classroom instruction and 10 hours of hands-on driving, the course accelerates the time it takes to become familiar with the basic functionality of a motorcycle, from performing a proper assembly / disassembly to control clutching and performing a U at low speed. spins in a 20 foot box. Our instructor pointed out that swerving, turning and balanced application of the front and rear brakes were the three key maneuvers to master. More importantly, the basic skills and strategies learned here can potentially save lives down the road. (I speak from experience – more on that later.)
The short time I spent riding ABATE's bikes – 16hp single cylinder Suzuki TU250s – at maximum 30mph on a closed course left me absolutely giddy to jump on the comparatively big Indian villain. Regarding the suitability of the new pilot, a few strengths were apparent even before I hit the starter switch. The seat sits at an extraordinarily low height of 26.5 inches above the ground, easily accommodating my dad at six-foot-two, me at five-foot-ten, as well as much smaller runners. The speedometer dial features a simple multifunction display with a toggle switch to display odometer, tachometer, engine coolant temperature, and battery voltage, without a fancy touchscreen or smartphone connectivity for distraction a beginner.
Instead, I just focused on the feel of the bike, starting with the gurgling-gurgling sound as I triggered the V-Twin and its synchronized visceral vibration. I've driven a few supercars with massive, far too powerful engines, but none delivered anything close to the exhilarating sensory experience I felt while sitting with a liter bike between my legs.
The hesitation I felt knowing that the Scout Bobber Sixty is nearly five times more powerful than the little Suzuki vanished almost immediately as I made my first long jaunt after getting my license. I set off to explore the many low-traffic country roads of central Iowa, which gave me my first chance to really accelerate in fourth gear. Although faster than most cars (including my 2012 Honda Civic SI), it is not particularly fast for a motorcycle, even in the cruiser category. But it was extremely fast because I was used to the comfort of a closed cabin. Especially on the Scout Bobber Sixty without a windshield or fairing to redirect airflow around the rider, being roughed up by the atmosphere only increases the feeling of moving at highway speeds for the first time. Needless to say, the performance is enough for a new rider. By the end of the 50 mile trip, I had smoothed out my shifting and felt settled up to 65 mph.
Then, with dad for the ride, we headed to Ledges State Park, a quaint collection of woods, small cliffs, and a winding road descending about 1,000 feet over a mile. We walked the path leisurely, crossing shallow bodies of water created by flooding from a local river and messing up our bikes, pants, and jackets in the process. I enjoyed the way motorcycles leave you completely exposed to the elements. Of course, you are more vulnerable, but the tradeoff is that you are also more in tune with your surroundings.
Which brings me to the return trip. A key safety tip given during the RiderCourse was to "pretend to be invisible" on any public road, which means you should always assume that other drivers don't see you and actively look for potentially dangerous scenarios. . I was leading on a freeway when I spotted a seedy Ford Taurus wagon on a perpendicular road that looked like it was about to turn into my lane. I backed up 65-50mph while watching with a keen eye before the vehicle – of course – came in my way. I applied a lot of pressure on both brakes to avoid a collision with only a few meters to lose. If I hadn't learned the correct braking technique, I could have locked the rear wheel and skidding in the back of the car or locked the front wheel and cleared the handlebars. And if I hadn't actively scanned, I certainly would have been involved in a nasty high-speed crash that could have seriously injured me (and my bike). The driver took a good look at my gloved third digit as we passed by.
As summer turned into fall, my dad and I continued to cover at least 10 miles almost daily. Differences in our riding styles have emerged over time: I'm generally more aggressive, while he's laid back. What's great is that these differences haven't stopped the father-son bond. I was happy to sit down and let him set the pace, and he would get a little fiery on the accelerator at times. And when we weren't together, neither of us were interested in driving our cars. He went to work every day for a month in a row, and we even opted to ride solo during thunderstorms on different occasions. "I tried to remember what I had learned in the RiderCourse," he told me after his first experience on a wet road. "Drive on the auto track, not in the center of the lane. Be careful when crossing painted surfaces. To slow down. I did it all and it worked. Riding in wet conditions is always more fun than driving in dry conditions.
Winter brought sub-freezing temperatures, but we're still driving (Night Ranger reference courtesy of my dad). We both dreaded the day Indian Motorcycle contacted us and asked us to pick up their loaner bikes … so we bought them.
Like I said, we are completely addicted demons.
Connect to the comments and let us know what you think The formidable Indian bike!
This content is created and maintained by a third party, and uploaded to this page to help users provide their email addresses. You may be able to find more information about this and other similar content on piano.io