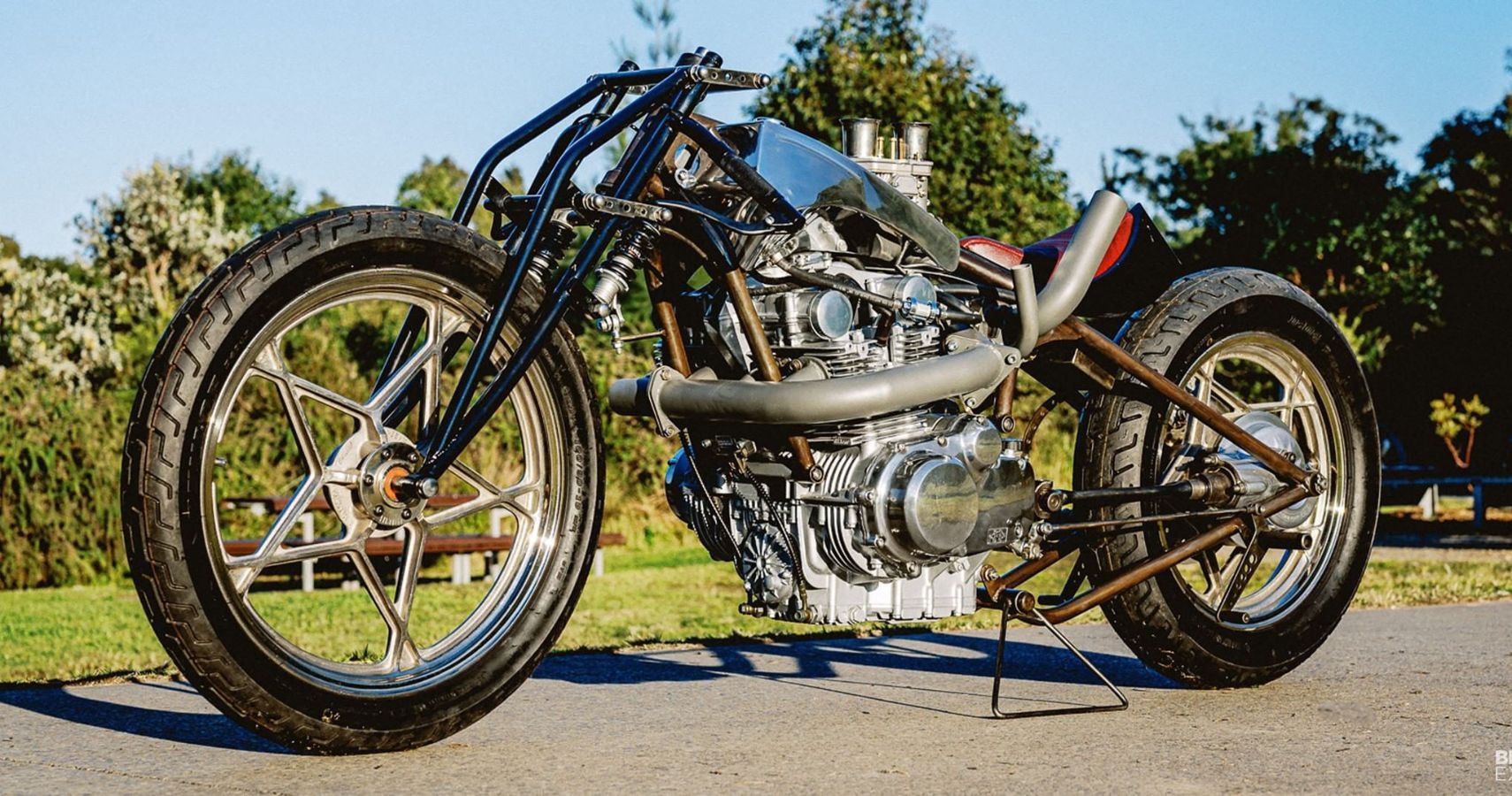 This Custom Turbocharged Suzuki GS650 Bobber Is An Impressive Parts Bin Project
In the world of media and film, it is often said that with less budget comes more creativity. And Australia's Edi Buffon proves that this holds true in the fine world of custom machinery as well. We've come across some of the coolest custom bikes like the futuristic-looking BMW R NineT and the two-faced Buell S1. But all of them require some level of financial commitment.
Edi, meanwhile, took on the challenge of building a bespoke machine without any investment! Yes, you heard right. This turbocharged Suzuki GS650 bobber was created by the custom house of Edi – Machine 1867 with as little money as possible. The only money he invested was for the leather upholstery of the leaf-shaped seat.
Building a custom motorcycle is an art, but building one without money is on a whole other level. Edi had to minimize the bodywork, which not only helped him save money, but also gave this bobber a raw, mechanical theme.
He had a Suzuki engine that has been dragging for a long time, which came in handy here. Oh, and not to mention those protruding carburettors on one side and the turbo housing on the other, which adds even more drama to the build. Even the side stand looks like a work of art, despite being a curved metal rod!
Machine 1867's Edi Buffon with his wild-looking Suzuki GS650 bobber shows us that money is the least of the requirements for a head-turning custom build.
Related: Check out the AD Koncept Suzuki GSX-S950 R French Special Limited Edition
Edi started this long and stagnant build from scratch
Edi already had a half-worked Suzuki GS650 in his garage. This bike had taken the side seat when he lost interest and continued with other custom builds. But it went unsupervised for a while, so he decided to do something creative with it.
He started from scratch by putting the engine and wheels on a table and thinking about what to do next. And that's when he decided to go "zero bucks" on building and create something with parts and scraps from his parts bin.
Turbocharging on motorcycles is always a fun recipe
Edi didn't go slow just because he wanted to do a coin bin project. For this reason, he decided to install a turbocharger on the air-cooled 673cc DOHC inline-4 engine. In stock form, this engine produced 73 hp and 42.2 lb-ft of torque. Those numbers are pretty healthy, even by today's standards for a middleweight offering.
Adding turbocharging will only make things more fun. Edi also added a custom twin Webber carburettor setup protruding from the right side up. It was mated to a custom handcrafted manifold. And on the left side, it positioned the turbo system, almost all of its parts are custom made. The actual numbers aren't known, but it's sure to put a big smile on the rider's face.
No Money Earned Edi Think Out Of The Box With This Build
Edi's plan not to use a single penny made him think hard about finding solutions. The entire frame was built from spare tubing that was lying around the shop. It opted for a low-slung configuration with a rack angle set at 35 degrees and a long 61-inch wheelbase.
Then the turbo engine got a custom exhaust system built using the stock headers mated to an end pipe using 3 inch tips from a box of cutouts from older versions . And when it ran out of 3-inch pipes, 2.5-inch bits were used, and it was coupled to the 3-inch tube using an improvised flange from a four-cylinder engine.
The turbo end pipe and wastegate were both angled upwards, which matched the carburetor setup. It should be noted that this is an end-to-end show build, with little to no built-in functionality! He made a beam-style front fork setup using a pair of mountain bike shocks he had trailed.
He then welded a set of handlebars to the forks and also sculpted a set of knurled grips. It kept the front section simple with no brakes and used a lever-operated throttle system. The throttle and clutch used reversed levers. The rear brake assembly and pedal setup were assembled from many salvaged parts.
Related: 10 Things Every Motorcycle Enthusiast Should Know About The 2022 Suzuki SV650
The raw nature of this construction gave it an industrial look
By using no money for this build, Edi managed to bring a raw, minimal and industrial theme to the bike. But despite the constraints, he still managed to make it his own. He built custom sharp-looking split tanks. The tanks were made of steel which was then polished to bring out that shine.
He made a custom seat design that looked like a leaf. It was wrapped in custom red leather upholstery. It hid the external fuel pump and a 12V battery under the seat. To maintain the raw appeal of this build, he decided to display the fuel and vacuum lines.
He painted the custom tail section and front forks black. He also tried his hand at a chemical bluing process for the frame and other metal fittings. Interestingly, the original wheels were retained and went very well throughout the build. The only items he shelled out the money for were the leather upholstery and ceramic coating to protect this work of art on wheels.
This Suzuki GS650 Bobber Build Is All About Skills
Edi Buffon with this turbo bobber build showed us that you don't need a bucket of cash to build a wild custom motorcycle. Outstanding skills and thinking are all that is required (and experience of course). Edi is the Dumbledore of the custom motorcycle world!
Sources: Dreaming Machines via Instagram, Machine1867 via Instagram