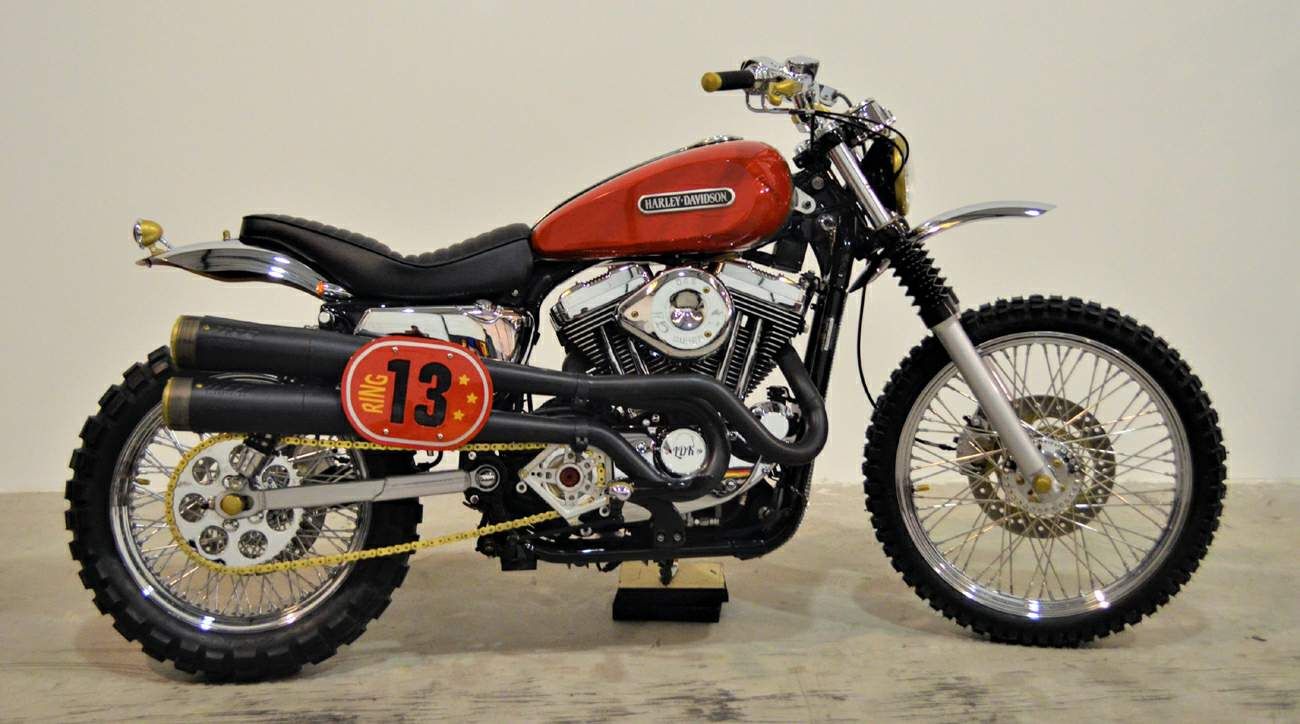 This is the best Harley Sportster Custom ever!
Harley Davidson's Sportster has long been a favorite of custom builders, perhaps because it's been around for so long. This work from Lord Drake Customs, however, might just be the best yet.
Bultracker 13 Harley Sportster Scrambler from Lord Drake Customs
It might be made largely of iron and have the gravitational mass of a small planet, but somehow the idea of ​​making a scrambler version of the Harley Sportster doesn't seem so outlandish, especially when she is as beautiful as this one!
Fran Manen is the owner of Lord Drake Kustoms (LDK) and he has a thing for the Spanish Bultacos, who were kings of the off-road hill in the 1970s. He's also pretty good at creating great, unique scrambler customs. . He's built a couple before based on the Harley Sportster, but this is the first time he's gone completely retro on a Sportster Scrambler.
It's called the Bultracker 13 and it is, in a word, perfect!
Taking inspiration from the Bultaco Matador, Fran started with a Sportster 1200 and began to work her magic. It's hard to know where to start, so beautifully detailed is this machine.
The wheels are the most obvious change: 18″ spoke rear and 21″ front, dressed in Continental Off Road tires. That alone would be enough to make this Sporty look quite different, but there's so much more.
It's hard to tell if the front forks are standard HD: the spec sheet just says "Modified by LDK". They certainly look longer than the stock forks, but that could just be the result of the larger front wheel. Rear suspension units are 2″ longer.
The Supertrapp exhaust system is perfect, giving the bike a very flat look. The tank and fenders are custom made for the Bultracker, also by LDK. In fact, Lord Drake made a lot of the parts: hand levers, front turn signals, side number plates, grille and front seat, in addition to the tank and fenders.
But it's the way everything has been put together that makes it so special. There isn't a single jarring note on the entire bike, unless you're not a fan of the gold accents dotted around the bike. Using the stock Harley switchgear also feels a little clunky.
But who am I kidding? The position of this construction is worth it. While there will never be a speck of dirt between the rubber blocks of his tires, it looks like he can handle it quite easily, which is certainly the point of such a build.
It's quite easily the nicest custom Scrambler I've ever seen. Maybe it helps in that there's a Harley that's not a million miles away from this – I'm talking about the XR750, of course – and sos that prepared us for a Sportster-based scrambler.
Whichever way you put it, it's just lovely!
Lod Drake Customs will build you your own Bultracker 13 if you have a donor Sportster. Contact them here